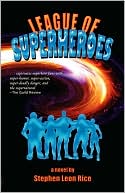 This month, Christian Fiction Review Blog is touring The League of Superheroes by Stephen Leon Rice.

Basic Information:
The League of Superheroes:



GENRE: Science Fiction




AUDIENCE: Young Adult and Adult




COVER PRICE: $9.95 (eligible for super saver shipping & $8.95 member's rates on B&N!)




REVIEW: Supersuits?! Superheroes?! Superpowers?! Another foray for me into the previously rarely ventured realm of science fiction! I thoroughly enjoyed this book. The writing is snappy and clever, the characters are delightfully realistic yet quirky (I like that better than nerdy!), the science fiction concepts are fascinating yet thoroughly understandable for a non-sci-fi girl like me, and the spiritual message is solid and reassuring. I highly recommend this book for teens and adults as an enjoyable literary adventure! Five stars!!




PLEASE VISIT the other blogs listed below! Many qualified readers and authors have reviewed this wonderful book and will have different comments to share that may offer more indepth or different reactions than mine.

Summary:
The League of Superheroes:


Four teenage boys and one little sister discover someone in a chat room who claims to be a little girl named Genie, but whose scientific knowledge and technology are a few centuries ahead of anyone else.

Who or what is Genie? The most intelligent mortal in history — an integral part of the most powerful force mankind has ever unleashed. And she does not consider herself subject to the laws of God or man.

On a whim, Genie transforms her new friends into the League of Superheroes:



Titan—a walking and flying tank—is Rod Davies, a klutzy, diplomacy-impaired beanpole who is also a certified genius in math and physics;



Darklight—an invisible spy—is the narrator, Tom Reilly, a scientifically inclined polyglot;



Tachyon—able to speed or slow time in his area—is Allen Peters, super-hacker; and



Micromegas—a size-changer—is Charlie Taylor, who hopes someday to be a medical missionary.

And then there are Clarice Peters, Allen's little sister and perhaps Genie's best friend, and "Uncle," the mysterious elderly man who was the first to treat Genie like a human being…

But can even superheroes save her (and the world) from her so-called creators—and from Genie herself?



Purchase League of Superheroes at
Check out these other member blogs this week for more info.